TBPHP MicroNeedling Pen Reviews
Do you want a complete solution to your skin problems? Or are you thinking of making your complexion better by regenerating the dead cells of your skin?
Here is the good news!
TBPHP micro-needling pen offers a complete and permanent solution to your skin problems. And the best part is that it prevents anti-aging as well.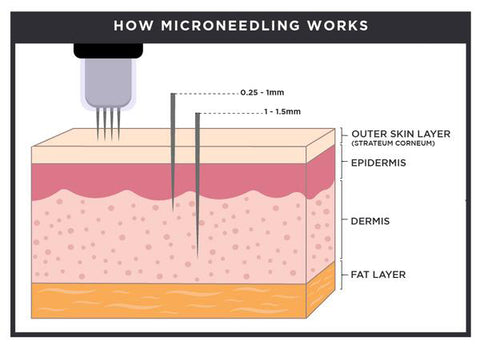 Everyone is stuck in his/her day-to-day hectic routine. Not everyone can visit spas daily. Besides, we don't bother to take care of our skin as we have ample tasks to do. But we must consider our skin health as important as our food.
After all, the skin needs the ultimate care and protection of our whole body.
Therefore, TBPHP Microneedling is the all-time solution to freshen up our skin. It also helps in balancing our skin tone and texture. Our skin produces new tissues as well. It diminishes fine lines, wrinkles, face spots, and acne also. It is also helpful in reducing or eliminating stretch marks from our bodies.
So are you excited to know about the best TBPHP Microneedling Pens? If so, don't worry; I'm going to review the best picks below. After comprehensive research, I've got my hands on the top three TBPHP Microneedling pens to answer all your skin problems.
Tips to Choose Best TBPHP Micro Needling Pen
You must consider the following things while selecting a good TBPHP Micro Needling pen at your disposal.
●     Contemplate on Your Skin Problems
While choosing the best solution for your face or body skin, you must reflect on the major skin issues with which you are dealing—for instance, acne scars, age spots, wrinkles, uneven skin tone, etc.
●     Filter Out the Features
Here you go, now you should decide between which TBPHP pen is the best fit for your face and skin rejuvenation. What are the different features of different TBPHP pens?
●     Weigh up Your Budget
Another tip is to check your budget criteria before picking a worthy TBPHP Microneedling pen. I bet you that it'll solve all your concerns.
Why Go For TBPHP Microneedling Pen?
The most amazing thing about the TBPHP Microneedling pen is that it is safe and easy to use. It does not create any harm to our skin. It does not create any kind of infection, bruising or other complications. The other remarkable feature is that these pens come with inherent charging, and you can carry them with you wherever you want.
An Ultimate Guide to Choose the Best TBPHP Microneedling Pen
If you're striving hard to select the best TBPHP Microneedling pen, the guide below will help you get rid of your concerns.
●     Safety
Safety is a must. You must make sure that the Microneedling pen is safe or not. Whether it is applied to sensitive skin or not. Besides, make sure about its suitability for all skin types.
●     Convenience
How much application time is the pen offering? Or is it chargeable, or can it be used only one time? These are some factors you must consider.
●     Needle Length
Needle length is also an essential factor. The needle length should be selected according to the skin problem or skin type.
●     Depth of Penetration
The penetration depth also consists of your skin issue and skin area; as for the face, skin derma pens offer a perfect penetration depth.
●     Speed levels
If you want to use a derma Microneedling pen for your skin or face, you must choose a TBPHP pen with 8000 working speeds.
Top-Rated TBPHP Microneedling Pens in 2021
If you're not happy about your current skin condition or are done with wrinkles or fine lines, the following products will remove your distress for sure.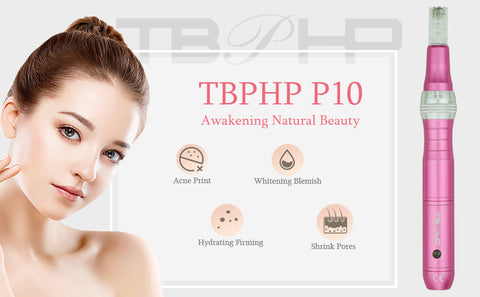 This electric pen with a beautiful design offers a home and itself treatment to your skin issues. It is ranked as one of the finest TBPHP P10 Microneedling pens among users due to its suitability for fine lines. TBPHP P10 also works on skin absorption, such as skin tightening, rejuvenating the skin as well. This is also working well for hyperpigmentation spots.
Here's Another Surprise for You!
Additionally, it comes with an adjustable length according to your skin requirement. TBPHP P10 also reduces your eye bags. It performs the job in high quality.
Pros:
Safety

Built-in charger

Speed regulator

Adjustable length
TBPHP P20 Microneedling pen offers a solution to skin scars. It is specially designed to deal with skin scars, burn scars, pigmentation, and anti-aging. It is a better choice for skin exfoliating as it does wonders to your skin. You will see a fantastic improvement in your skin after one day of usage.
Do You Know?
The great thing is that it works like laser therapy; now, you don't have to worry about your skin issue as this is your finest skin assistance. The LED light in the device helps to tighten the skin and rejuvenates as well. In addition to this, it comes with two modes of LED light, blue and red. The blue light makes your skin appear tight, diminishes acne scars, wrinkles, fine lines, and so on. The red light increases collagen and refreshes up the skin.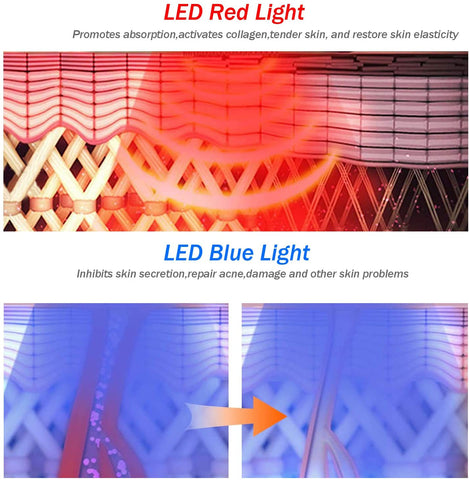 Pros:
Harmless and suitable

LCD screen

Laser therapy

Speed Precision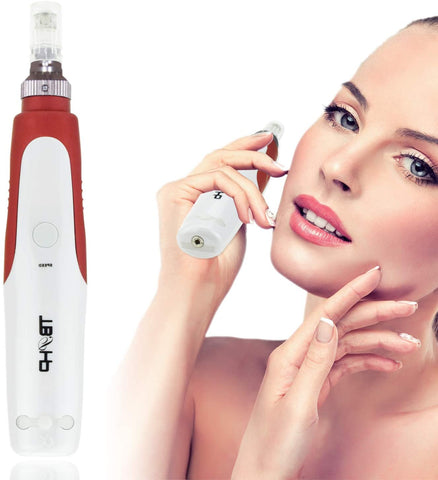 Last but not least, TBPHP Pen 1 seems like the most appropriate option for improving your skin condition within days. Vertically pierced needles are integrated into it to enhance your skin's absorption ability, thereby increasing the penetration of collagen.
What Makes it Demanding Among All?
If you're a beginner and don't know about the care routine of your skin, it helps you out with the one-click easy operation. Remarkable skin regeneration is offered through the availability of five beauty modes. Moreover, the additional 8000 to 16000 RPM helps to repair the acne and scars.
Pros:
The adjustability of needle length

Various beauty modes

Enhances skin absorption ability

An easy method of operation
Comparison Compendium
To help you choose and recognize, the TBPHP Microneedling pens guide has been created below:
 

TBPHP P

en 1

TBPHP 

P10

TBPHP 

P20
Device Features
Disposable Cartridges

Travel Size

RPM Max

8,000-16,000

18,000

18,000

Adjustable Needle Length
Chargeable Built-in Battery
Wireless
Speed Display Screen
LED Therapy
Made by aluminium alloy
Commonly used for
Fine Lines
Collagen Production
Hyperpigmentation / Discolouration
Stretch Marks
Acne Scarring
Tightening
Product Absorption
Hair Loss / Alopecia
Final Verdict:
Microneedling TBPHP is a great device that works magic to freshen up and rejuvenate your skin. It destroys the dead cells and helps in growing new cells. It diminishes hyperpigmentation, all kinds of scars and exfoliates the skin of the face, body, and scalp.
So aren't you excited to get glowing and young skin regardless of your age? If so, go through the list above and get your hands on the best product!